---
Cover | Contents | The Target and the Targeteers | Black Terror

Black Diamond | The Cadet | Letters | Back Cover
---
Hello and welcome to the first all-new, all-old, issue of All-Amazing Comics in over six years! Several factors lead to the demise of the series, the biggest being time and space. At the time, I was caring for my grandfather full-time. He was suffering from dementia and that took up most of my time and energy. He passed away a few years ago, and I've since been back in school, another activity that has taken most of my time and energy. I was also struggling to find free web space, and the ads were getting very intrusive. Now, if all goes as planned, I should have a bachelor's in Computer Graphics Technology from Purdue next December. Since print and web design is my main focus, I thought now would be a good time to get back to All-Amazing and Spotlight Comics to help keep my skills sharpened. Plus, I'm now have the web space to host such a massive site. It was work on these books and this site back in high school that lead me to computer graphics, and it has long bothered me that I ever had to leave them.
If you were around for the first run of this series, things will be pretty much the same as before, but with some improvements. I've redesigned the site and the books, which will hopefully make navigation easier, and I've enlarged the size of the scans. Over time, as I am able to, I will be converting all of the back issues to this new format, and locating them on this server. My first priority are the books that have been offline for years. They should be returning soon.
If you are just discovering The Golden Years and All-Amazing Comics for the first time, you are in for a treat! Every month, I will present scans of four stories from the Golden Age that are in the public domain. Two will always be superheroes and one will always be a "genre" story. The fourth one, which is actually the third one in the line-up, will be a bit of a wildcard. It can be superhero, it can be genre, or it can be something in-between, like this month with Black Diamond. The issue will always be capped off with the "back cover." This will usually be a paid or house ad from the Golden Age that I found interesting.
Well, that's enough of this long-winded introduction. Future intros. will be much shorter, with any announcements on the letters page. Now, without further ado, I give you three old favorites, The Target and the Targeteers, Black Terror, and The Cadet, and one new one, The Black Diamond!
---
The Target and the Targeteers
-Story taken from Target Comics vol.2 no.8
Novelty Press Inc. October 1941
-Writer- Unknown
-Penciler- Sid Greene
-Inker- Sid Greene
-A.K.A.- Niles Reed, Tom Brown, and Dave Foster
-Known Powers- None.
-Other information- Niles Reed, a metallurgist, was orphaned at 16, leaving only his older brother Bill, a district attorney, as family. His brother was framed for murder and sentenced to death. A masked Niles freed Bill on the way to prison, only to be killed by one of the guards while making the escape. Now alone in the world. Niles soon met Tom and Dave, both orphans of crime, and formed a fast friendship. One night while playing darts, Tom made an analogy between crime and the target they were using which inspired Niles. He soon crafted bulletproof costumes out of flexible metal for the trio, and they begin their lives as the Target and the Targeteers!
-Known Appearances- Blue Bolt 102-104 (reprints 105 and 110); 4 Most Comics vol.1 no.1-2, vol.5 no.1; Target Comics vol.1 no.10-vol.9 no.5, 8, vol.10 no.1
---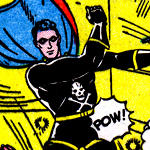 The Black Terror
-Story taken from Exciting Comics #17
Better Publications Inc. March 1942
-Writer- Unknown
-Penciler- Ed Moritz
-Inker- Ed Moritz
-A.K.A.- Bob Benton and Tim Roland
-Known Powers- Black Terror: Strength, invulnerability Tim: Strength, invulnerability
-Other information- An accident during an experiment with formic ether vapors gave timid pharmacist, Bob Benton, superhuman strength and invulnerability which he used to fight crime and espionage as the Black Terror! Not much about Bob's personal life was ever given, but it was generally known that he, in some way, knew the Black Terror. His degree of strength varied, but for some reason he could always be knocked out by a blow to the head.
Tim Roland was a delivery boy for Bob Benton who caused the accident, and later became the Kid Terror (as far as I know though that name was only used in Exciting Comics #69). Tim used the formic ether vapors to gain powers of his own, but they were downplayed as time went on, giving the impression that he had no powers at all. Though he played second fiddle to Black Terror for most of his career, Tim got to take center stage in Exciting #69 (reprinted in Pure Excitement Comics 24).
-Known Appearances- America's Best Comics 1-31; Black Terror 1-27; Exciting Comics 9-69
---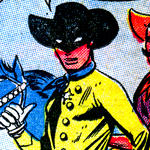 Black Diamond
-Story taken from Black Diamond Western #22
Lev Gleason Publications Inc. December 1950
-Writer-William Overgard
-Penciler- William Overgard
-Inker-William Overgard
-A.K.A.- Bob Vale
-Known Powers- None.
-Other information- Not just a Lone Ranger knock-off, Black Diamond separated himself in typical Lev Gleason fashion by becoming an official Federal marshal. Assisted by his sidekick Bumper and his horse, Reliapon (a name given by readers in a contest), Black Diamond fought crime and kept order in the old west.
-Known Appearances- Black Diamond Western 9-60
---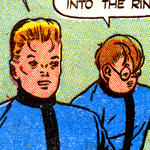 The Cadet
-Story taken from Target Comics vol.6 no.8
Novelty Press Inc. November 1945
-Writer- Unknown
-Penciler- Walter Johnson
-Inker-Walter Johnson
-Known Appearances- 4 Most Comics vol.1 no.1-vol.8 no.5, 4 Most Boys Comics 37-40, Target Comics vol.2 no.4-vol.10 no.3
---
All-Amazing Comics #37. Published by Golden Years Publications, February 2010. All original material presented here and site design is property of The Golden Years and is not to be represented without permission from the site owner. All re-presented material, comics, covers, etc. is believed to be in the public domain and/or fall under "fair use." Biographical information pulled from Jerry Bails' Who's Who of 20th Century American Comic Books, The Grand Comics Database, AC's Golden Age Hero and Heroine Directory, Pure Excitement Comics, and Jess Nevins' Golden Age Hero Directory.