---
Cover | Contents | Doc Strange | Power Nelson

The Blue Streak | The Toreador | Letters | Back Cover
---
Hello and welcome to the second all-new, all-old, issue of All-Amazing Comics in over six years, and the thirty-eighth overall! If you are just discovering The Golden Years and All-Amazing Comics for the first time, you are in for a treat! Every month, I will present scans of four stories from the Golden Age that are in the public domain. Two will always be superheroes and one will always be a "genre" story. The fourth one, which is actually the third one in the line-up, will be a bit of a wildcard. It can be superhero, it can be genre, or it can be something in-between. The issue will always be capped off with the "back cover." This will usually be a paid or house ad from the Golden Age that I found interesting.
Before we begin, I want to apologize for this issue's tardiness. A large, semester-long project at school has kept me busier than I had planned or hoped, and is almost solely responsible for my lack of time and energy in putting this issue together. It is likely that it could also cause next month's books (All-Amazing #38 and Spotlight #13) to be a little late as well, but I'll do my best to have them out on schedule.
Now, as for this issue's line-up: One of these things is not like the other. One of these things just doesn't belong... As I was preparing this issue I noticed that all but the Toreador are from 1940. It wasn't planned, it just worked out that way. Had I realized it sooner, I would have replaced Toreador with something else from that year and made this a "theme issue". Oh well.
---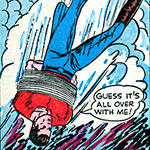 Doc Strange
-Story taken from Thrilling Comics #8
Better Publications Inc. September 1940
-Writer- Richard Hughes
-Penciler- George Mandel
-Inker- George Mandel
-A.K.A.- Dr. Hugo Strange
-Known Powers- Strength, flight, and invulnerability.
-Other information- Scientist, Dr. Hugo Strange drank alosun, a distillate of sun atoms, to gain his powers, which he used to fight crime. Doc Strange was aided by his fiancé, Virginia Thompson, and, later, his kid sidekick, Mike (Thrilling #24).
-Known Appearances- America's Best Comics 1-23, 27; Thrilling Comics 1-64
---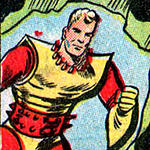 Power Nelson, The Future Man
-Story taken from Prize Comics #4
Feature Publications Inc. June 1940
-Writer- Unknown
-Penciler- Dick Sprang(?) and/or Ed Kressey(?)
-Inker- Norman Fallon(?) and/or Ed Kressey(?)
-A.K.A.- Gene West
-Known Powers- Strength and invulnerability
-Other information- After the devastation of World Wars II and III, the world has been conquered by Mongol hordes, and is ruled by the cruel Emperor Seng I. In 1982, a group of scientists choose Gene West as a test subject to endow with "the strength of a steam engine and the hardness of tempered steel." This version lasted just a few issues before Prize Comics got a makeover and Power Nelson was sent back to the early 1940s to deal with 5th columnists in the guise of a radio commentator.
-Known Appearances- Prize Comics 1-23
---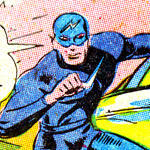 The Blue Streak
-Story taken from Holyoke One-Shot #4 (reprinted from Crash Comics Adventures #5)
Tem Publishing Co. Inc. November 1940
-Writer- Whitman Shop
-Penciler- Dan Gormley
-Inker- Dan Gormley
-A.K.A.- Unknown
-Known Powers- Likely none, but perhaps strength.
-Other information- Although shown in his civilian guise, the Blue Streak's true identity and back story are never revealed. In his few appearances he appears to be wealthy, lives in a mountain retreat, and works with his Asian servant and friend, Tago. In most stories he seems to possess no superpowers, but he does wear a bulletproof vest. The one exception is in Crash #3 where super-human strength appears to be shown as Blue Streak breaks the bars of a prison cell, but no special powers are mentioned, or ever again exhibited.
-Known Appearances- Crash Comics Adventures 1-5
---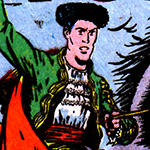 The Toreador
-Story taken from Blue Circle Comics #5
Enwil Associates Inc. March 1945
-Writer- Unknown
-Penciler- Chuck Miller
-Inker- King Ward(?)
-A.K.A.- Ron Russell
-Known Appearances- Blue Circle Comics 1-5
---
All-Amazing Comics #38. Published by Golden Years Publications, March 2010. All original material presented here and site design is property of The Golden Years and is not to be represented without permission from the site owner. All re-presented material, comics, covers, etc. is believed to be in the public domain and/or fall under "fair use." Biographical information pulled from Jerry Bails' Who's Who of 20th Century American Comic Books, The Grand Comics Database, AC's Golden Age Hero and Heroine Directory, Pure Excitement Comics, and Jess Nevins' Golden Age Hero Directory.