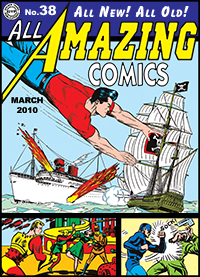 All-Amazing Comics #38
Featuring:
Doc Strange
Thrilling Comics #8
Power Nelson
Prize Comics #4
The Blue Streak
Crash Comics Adventures #5
The Toreador
Blue Circle Comics #5
Look out Johnny Depp, Doc Strange is back, and he's hunting pirates! When ships go missing in the south seas Strange and his fiancé, Virginia, investigate. Have they gotten more than they bargained for when they run into a modern band of pirates?
Then, in the far flung future, or past, or whatever, of 1982 we join Power Nelson in his fight to liberate Earth! Plus, The Blue Streak and The Toreador!!!